At McVety's, we know how important it is to relax around your home when you have down time.  A peaceful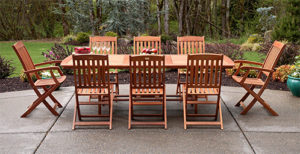 evening on your deck or patio, watching your kids or grandkids take a swim in the pool, or sharing dinner with friends in the late afternoon, having comfortable patio furniture makes you experience even more enjoyable.
We carry a wide variety of styles, furniture, colors, fabrics and so on.  Our manufacturing partners share the same beliefs that we do.  When you are at home, your time there should be as comfortable and as enjoyable as possible.
From table and chairs, chaise lounges, outdoor couches and so much more, the high quality materials that all our furniture is made up means you can be proud when you offer your guests a seat.
In addition, whether your budget is on the high-end or the low-end, we have just the right options for you.  We offer Telescope, Kettler, Jensen IPE, CRP, Galtech Umbrellas and Stands, Napoleon, Regal Teak and Lloyd Flanders.
To find out more about our wide variety of patio furniture, simply click the drop-down-box on the patio furniture tab on our menu.
You can rest assured, at McVety's we have the right patio furniture for your family.